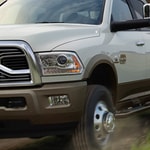 Do you spend a great deal of time loading and unloading? We at Jim Hayes Inc know that the vehicle you buy can have a big impact on day-to-day comfort. That's where the Ram 3500, a popular heavy-duty pickup truck, can provide a useful solution.
When you're lifting and lowering the tailgate of your truck many times a day, you know the physical toll it can take. That's why the Ram 3500 comes with a built-in damper. It reduces the force needed and helps you open and close the gate with ease. Or, opt for the available power-release tailgate to open the back with the push of a button.
Do you ever need to carry tools and other valuables? The available Rambox cargo management system on the Ram 3500 can be a lifesaver. It stores small items safely and in easy reach, so you don't have to climb up into the bed. Check it out by test-driving the Ram 3500 with our team in Harrisburg, IL today.