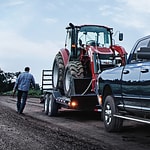 The Ram 2500 is an excellent vehicle to own if you ever need a heavy-duty truck for business, household, or farm work. One of the many benefits of choosing a Ram 2500 is that you have the opportunity to select the exact powertrain that you want.
The optional 6.7-liter Cummins diesel engine supplies an unbelievable 800 pound-feet of torque that enables it to tow loads of almost 18,000 pounds without breaking a sweat. If that's more power than you need, however, you can pick the heavy-duty Hemi V8 or standard Hemi V8 instead.
Once you've determined the engine that's right for you, all that's left to do is settle on a transmission. Your choice of an automatic or manual six-speed transmission will complete your Ram 2500's capable powertrain.