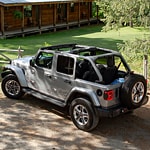 When you think of a popular compact SUV, your mind automatically goes to Jeep and its impressive lineup of sports utility vehicles. Out of all of them, the Jeep Wrangler perhaps garners the most attention, particularly given how powerful and easy to customize that it is.
What other compact SUV gives you the choice of how you want to drive and how exposed to the outdoors that you want to be? It has removable outer body parts that you can take off and put back on at a whim's notice. Once back on, these parts remain in place securely and offer you the protection you need in case of an accident.
Still, you can take off the back and side windows to make the cabin entirely open to the air and sunshine. It also has a removable top that you can alternate between the soft and hard top or remove entirely.