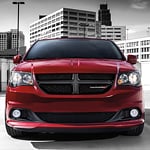 Concerned with keeping yourself and loved ones safe on the road? Look no further than the Dodge Grand Caravan here at Jim Hayes Inc in Harrisburg, IL. With its high-class elegance and roadworthy safety functions, the Dodge Grand Caravan is a minivan built with families in mind.
The Dodge Grand Caravan provides only the best in safety for you and your family. With interior child locks, this Caravan will ensure that none of your little riders slip out of the car, unknowingly. Furthermore, the Dodge Grand Caravan also features a high strength steel frame likely to win in a battle against another car void of the same, leaving you and your loved ones more likely to exit the vehicle protected in the unfortunate event of a collision.
Overall, the Dodge Grand Caravan offers more than classic looks and style but goes to great lengths to provide you and your family the security you need, for a ride that is peaceful and virtually worry-free.